Dale Grimes's Flag Display
Dale Grimes is one of our members. He is interested in US Naval Flags from World War II, specifically those made at the old Mare Island Naval Shipyard. He has a collection of these flags, mostly of ensigns, jacks, admiral and secretary flags. He displays these flags often. Many of his flags were on display in the gallery of the Star Spangled Banner Flag House in Baltimore for five months in 2005. He has set up flag displays for events such as Memorial Day and the Fourth of July. He has also set up displays for World War Two veterans' reunions, and given talks on flags to school groups and historical societies. He is available to set up flag displays and give flag talks to interested organizations and groups. Contact cbfamail@gmail.com and your request will be forwarded.
Matt Pavesich's DCAdapters
-a site that shows the many uses of the flag of the District of Columbia
http://www.dcadapters.org/home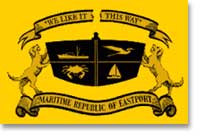 Here is an unique flag from an unique community on the Chesapeake Bay. In the spirit of the Conch Republic, the Annapolis neighborhood of Eastport seceded from Annapolis (and one assumes Maryland and the US) after the bridge connecting the two was closed for repairs. They have continued to foster this spirit of independence, which included designing a new national flag. To learn more about Eastport, go to the Eastport website.
Annandale Flag
On October 5th, 2006, the community of Annandale, VA unveiled its first flag. This flag was created thanks to the efforts of numerous community members including CBFA's own Peter Ansoff.